Stunning Home in Mirasierra, Madrid. Complete remodelling of the house. Renovation of house wiring, plumbing and even the air conditioning system were made, as well as the network wiring to adapt the house to state of the art technology.
City Apartment in Santísima Trinidad, Madrid. Complete interior design project. The mixture of antiquities and contemporary furniture, either bespoke or standard pieces ,resulted a colourful, cozy and welcoming atmosphere. Highlights of this project, were the collection of wall art and the exquisite selection of textiles, both for their stunning printings and rich textures.
Hotel Los Balagares, Asturias. Project managment. Supervision at all stages, from the first draft of the project to the final implementation. A contemporaneous space in the heart of Asturias with a sybarite and contemporary style that creates spaces of rest and calm. An experience recommended to be discovered and repeat.
Parador de Turismo de Cádiz, Andalucía. Framed in an outstanding avant-garde style building, this Parador breathes modernity and technology. Diaphanous spaces converted interior design into an Art, in capital letters, they were treated with special care to avoid cold results and special emphasis was done in its opening to the sea.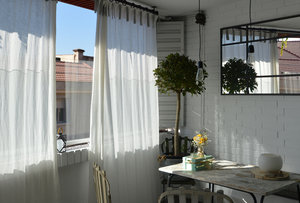 Housing in Rafael Calvo, Madrid. Exhaustive reform of the house in a singular building in the center of Madrid, our clients needed to bring their personality to the house with some key elements in the Decoration. They had some needs and abstract ideas: we made real with creative and practical solutions, we solved the functional part and gave that different character that was missing.
Relais & Chateaux Palacio de Luces, Asturias. Project managment. Balanced combination of noble materials, contemporary textures and sophisticated finishes to create a cozy and comfortable ambience in this palace of XVI century.
Parador de Turismo de Alcalá de Henares, Madrid. Project managment. Located in the former Colegio Mayor de San Jerónimo (siglo XVII). The balance between the majesty of the space and the innovation of the design is based in the small details, in the chosen materials and in its application´s exquisiteness.